So many newspapers, magazines, TV shows, blogs, and other news sources comment on transatlantic issues every day. If you want to keep track, Atlantic Review might be the press digest of choice. The site picks the best, highlights the worst and corrects the plainly wrong of the many transatlantic news stories.
It is highly recommended reading for everyone trying to keep up with transatlantic culture, global politics, and European and American perceptions of the significant other. Edited by a three men team, including an alumnus of the Free University of Berlin, Atlantic Review has drawn a sizeable audience, as evidenced by the lively discussion surrounding each post in the comments.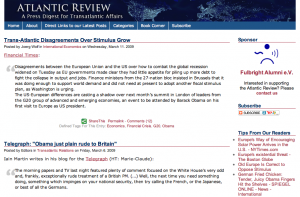 tapmag: Who's blogging on Atlantic Review? What is your background, are you American, European, or both?
Joerg: One American (Kyle Atwell, California) and two Europeans (Nanne Zwagerman, Netherlands and Joerg Wolf, Germany)
tapmag: Which topics do you write about? Who do you write for?
Joerg: All things transatlantic, but especially security issues (NATO, Afghanistan, Russia) and US commentaries on European policies and what Europeans say about the US.
Nanne: We don't have a detailed concept of a target audience. We write for anyone who is interested in transatlantic relations. I think the blog does a good job of staying accessible but also a bit serious, and I know we have a lot of interesting readers.
tapmag: Why are you blogging? Why did you start in the first place?
Joerg: To promote critical, but fair analysis about the United States and Europe, which is needed to strengthen transatlantic relations in the 21st century.
tapmag: Soccer or Football?
Joerg: Soccer.
Nanne: Snooker for watching, pool for playing.
tapmag: Which one is your favorite article on "Atlantic Review"? Which one is the most clicked?
Nanne: Our top two posts are about murder rates in the US vs. Germany and a youtube video from the EU that shows European sex. This only shows what people who come to us through search engines care about.
Our third most clicked post is also one of my favourites, and that's a detailed post about how a German passenger was defamed in the 'United 93' movie. This is about addressing stereotypes that exist on both sides of the Atlantic, which is also an important part of what the Atlantic Review has done.
tapmag: Jesus or Obama?
Joerg: Nope, Forrest Gump it is.
Nanne: You're sure you don't mean Senator Fulbright, Joerg?

tapmag: Which question would you have liked to answer?
Nanne: Can German bands rock?
Joerg: Can the Dutch win in soccer?
tapmag: Tatort or The Wire?

Joerg: Neither for me.
Nanne: I haven't watched The Wire.
tapmag: What is your favorite blog?
Nanne: talkingpointsmemo.com by Joshua Micah Marshall & team. This is actually the first blog I started reading, which was in 2003. It's an example of how far you can take blogging and one of the best sources on DC politics.
Joerg: Tapmag, of course. There are so many blogs that I like for different topics and moods. Here are some of them: New Atlanticist, The Moderate Voice, USA Erklärt, Lifehacker.
tapmag: Thanks.
You can find all blog posts of this series on transatlantic blogs here.