Americans have a lot of stereotypes about the beer brewers in lederhosen from Germany. Germans know that. They love to tease Americans for their "narrow" worldview, and like to tell them that in fact, if it hadn't been for one vote, German would be the official language of the Vereinigte Staaten von Amerika today. Well, not really.
It is these misconceptions and misunderstandings Scot W. Stevenson likes to target with his blog USA erklärt. Scot explains everything from humoristic differences, administrative particularities, and popcultural references that Germans have a hard time to understand. Post after post, using his (and his parents') wide knowledge about German and American culture, his readers are lead towards a more accurate picture of America.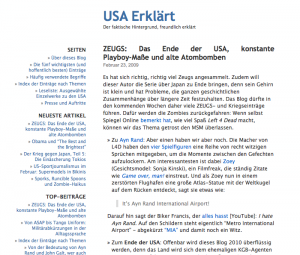 Whatever he discusses, he never fails to entertain on his one-man quest to bring cultures together and to proof that literally anything can be explained using Buffy quoations. Scot W. Stevenson was deservedly nominated for the Grimme Online Award in 2007 and the Golden Prometheus in 2008.
tapmag: Who's blogging on USA erklärt? What is your background, are you
American, European, or both?
Scot: I'm a 40-year-old American who has been living in Germany since he was six. I live near Berlin, Germany with my wife, two kids, and an old, friendly cat.
tapmag: Which topics do you write about? Who do you write for?
Scot: I try to explain the United States to Germans, as far as it can be explained. So I'll do a little piece about Halloween, about what the President can or cannot do, why root beer isn't beer, who the Lone Ranger is, or why you should never, ever put sugar on your popcorn.
When asked, I'll always say that I write for people who are interested in the U.S., with the ideal of not picking sides—if you hate America, you should be able to find background here just as if you love it. There are enough pro/anti-American blogs out there, and I wanted to do one that just presents the facts.
However, I really write for myself, because…
tapmag: Why are you blogging? Why did you start in the first place?
Scot: …it is so much fun. I've learned an enormous amount about the U.S., because the blog has forced me to read all the stuff that I always avoided. I get to make terrible word puns and spend pages talking
about the Swimsuit Issue of Sports Illustrated. I started—well, my excuse to start—were all the mistakes that people kept making about the United States. Somebody should do something about that, I thought
to myself, and since there was nobody else around, I figured I'd have to do it myself.
tapmag: Soccer or Football?
Scot: Football. American Football, that is.
tapmag: What is your favorite article on USA erklärt? Which one is the most clicked?
Scot: My favorite article is about Halloween. I think it captures a lot of what makes this such a special holiday and explains why it is spreading throughout the world.
The most popular one is "Warum Amerikaner (Briten, Kanadier) nicht sagen, was sie meinen" which explains why Americans, Brits, and other English speakers don't always say what they mean and mean what they say. This is a big thing for Germans, who are honest to a fault.
tapmag: Jesus or Obama?
Scot: Jesus.
tapmag: What question would you have liked to answer? And what would be your answer to it?
Scot: Why do you put all those Buffy references in your blog?—Because it is a great show to explain stuff with, because the humor is great, and because it gives me an excuse to watch old episodes without giving the impression I'm obsessed. Well, not too obsessed, that is.
tapmag: Tatort or The Wire?
Scot: I'll have to go with Tatort since I haven't gotten around to The Wire yet. I haven't even gotten around to most of Navy CIS yet … in fact, I'm still missing lots and lots of Futurama episodes.
tapmag: Your favorite blog?
Scot: I Can Has Cheezburger. Of course, I don't look at the pictures, I only read the text.
tapmag: Thanks.
Scot: Thanks for having me.
You can find all the blog posts of this series here.