Welcome to part two of our mini-series on transatlantic blogs. Although, Atlantic Community defies this category. It's a network, think tank, public publishing system and arena for debate—all at once. Come to think of it, it is a blog, just supercharged by the ideas and opinions of its hundreds of members.
It was founded by the Atlantische Initiative in 2007, and is an excellent starting point to explore global issues and politics on a broad scale. David Lebhar was so nice to answer our set of questions on behalf of the Atlantic Community editorial team.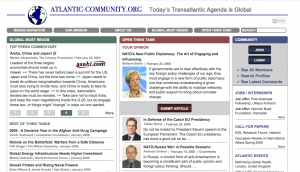 tapmag: Who's blogging on Atlantic-community.org? What is your background, are you American, European, or both?
David: Atlantic-community.org is the budding, online, open think tank on transatlantic and foreign policy. It's a social utility where anyone can publish their own articles, post comments and read the latest from our members on today's crucial issues – all in our Open Think Tank.
We feature articles from experts, political leaders, students, journalists, professors, think tankers and civil servants from America, Europe and all over the world. Our editorial team is also an international bunch currently hailing from the United States, France, Germany, Finland, Cyprus, and the UK – check us out at About Us.
Becoming a member is free and easy, and there is no better way to connect to political experts, students, professors, professionals and engaged citizens all over the world.
tapmag: Which topics do you write about? Who do you write for?
David: Atlantic-community.org focuses on transatlantic foreign policy and broader issues of international affairs. Most recently we have covered issues such as Davos, Afghanistan, the financial crisis, the Gaza conflict and new systems of global governance in a changing world order.
The editorial team synthesizes the best arguments and policy recommendations from articles and comments into Atlantic Memos. These memos are distributed to high level decision makers throughout Europe and North America in an effort help set the transatlantic agenda through collective intelligence.
tapmag: Why are you blogging? Why did you start in the first place?
David: Atlantic-community.org believes that the challenges of the twenty-first century can only be overcome if Europe and North America work together. As political decisions are increasingly made at the international level, social platforms for political debate need to become more global as well – our online platform is ideal for such a cause.
tapmag: Soccer or Football?
David: Aren't they the same thing?
tapmag: Which one is your favorite article on Atlantic-community.org? Which one is the most clicked?
David: My favourite article appearing on the front page of the website is our exclusive video interview with Maliha Zulfacar, Afghan Ambassador to Germany. Our most clicked article is our latest poll: Which Topics Should be Prioritized on the Transatlantic Agenda? Vote Here!
tapmag: Jesus or Obama?
David: We all know the only way to decide this type of thing is through Google Fights:
Obama: 340,000,000 results
Jesus: 185,000,000 results
tapmag: Which question would you have liked to answer?
David: If your blog were a person, what would it eat for lunch?
tapmag: Tatort or The Wire?
David: Gotta love the "retro" introduction on Tatort!
tapmag: What is your favorite blog?
David: I don't know if The Onion counts as a blog, but if it does, it's definitely on the top of my list.
tapmag: Thanks!
You can find all the blog posts of this series here.