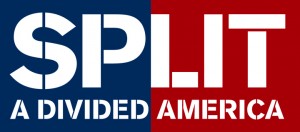 One of the greatest dangers facing American democracy today is extreme partisanship. The division of public and politics along party lines hinders political discourse and halts social progress at great costs to society. If little else, Americans can agree on that. But, as soon as you ask who is responsible for political bipolarity, people are divided: Fox News or the liberal media, fundamentalist evangelicals or the eastcoast elite, rich republicans or wealthy democrats, SUV drivers or treehuggers.
"Split: A Divided America" is a documentary that shines a light on the roots and consequences of this political divide. While it can't solve all the problems and leaves the viewer with open questions, there are still some insights to be drawn from it.
First of all, the paradigm of red states vs. blue states is a construction, and not a political reality. But, its adoption is of use for some people, which explains its popularity. Partisanship can win campaigns and makes the media's job a little easier. Alas—it fails to describe a much more complex reality.
The 2008 documentary features well known scientists, publicists, and political activists such as Robert D. Putnam, Nicholas Kristof, Amy Goodman, Noam Chomsky and Jesse Jackson.
Plus, it is remarkably bipartisan and although the producers are part of the story, they manage to step aside and let their subjects speak for themselves most of the time. In taking this approach, "Split" is a step away from the Michael Moore kind of opinionated reportages, that preach to the choir and seem to divide rather than unite.
The movie is not officially available in Europe yet, but—much to our delight—we found it on Hulu (once again, how to watch Hulu if you are outside the U.S.):