Opening today at Berlin's world renowned Bauhaus Archive "Andreas Feininger – New York in the Forties," an exhibition which includes many of the artists own favorite shots. Having given his main body of work to the CCP in Tucson Arizona, Feininger held those few personal favorites back and finally gave them to the later founded Andreas Feininger Archive in Tübingen. Now they are on display in Berlin.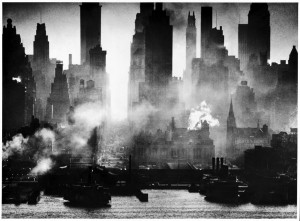 Feininger had been a student at Bauhaus and never meant to become a photographer. Initially he was trained to be a cabinetmaker and then later worked as an architect with Le Corbusier. At some point he gave up on architecture itself and focused on its photography, which led him to become a key photographer at Life magazine for over 20 years.
When he immigrated to New York in 1939 he found his urban utopia, a place even more bursting with life than Paris and Stockholm, where he had lived before. Besides his work as an alround photographer capturing everything from fashion events to car accidents, he found time to walk the streets of New York and portrait it in all its facettes. But unlike Henri Cartier-Bresson or Robert Capa he never waited to capture the one decisive moment. He rather tried to built the perfect impression by craftfully staging the picture he had in his mind.
As one of a few photographers of his time he was capable of successfully mastering craft and techiques with art and design. He considered craftsmanship to be the basic tool for his artistic expression—he saw the camera as the photographer's typewriter. And this, in the end, made him an expert among experts. He wrote a number of standard references to photography, one of which you will probably know if you ever got serious with this artform: The Complete Photographer from 1978.
His work continues to define the image we have of New York until today. This probably explains the nostalgic feeling of ours when we saw the exhibition. If you have ever been there or not – Feininger's pictures still feel strangely familiar.
Andreas Feininger
New York in the Forties
18.02.09 – 18.05.09
Bauhaus-Archiv
Museum für Gestaltung
Klingelhöferstraße 14
10785 Berlin