Yesterday, activists/comedians/artists The Yes Men headed to Kreuzberg's Betahaus to present their latest feature film "The Yes Men fix the World".  The culture jamming anti-consumerists are in Berlin due to the currently underway Berlinale film festival, in which their picture is running as part of the Panorama section. Betahaus housed the Museum of Capitalism that night, an exhibition that tried to comment on the current economic woes. Andy Bichlbaum and Mike Bonanno delivered their gospel to the style-abiding, feel-good leftists while standing, rather fittingly, in a shopping cart. Mike provided us with further enlightenment.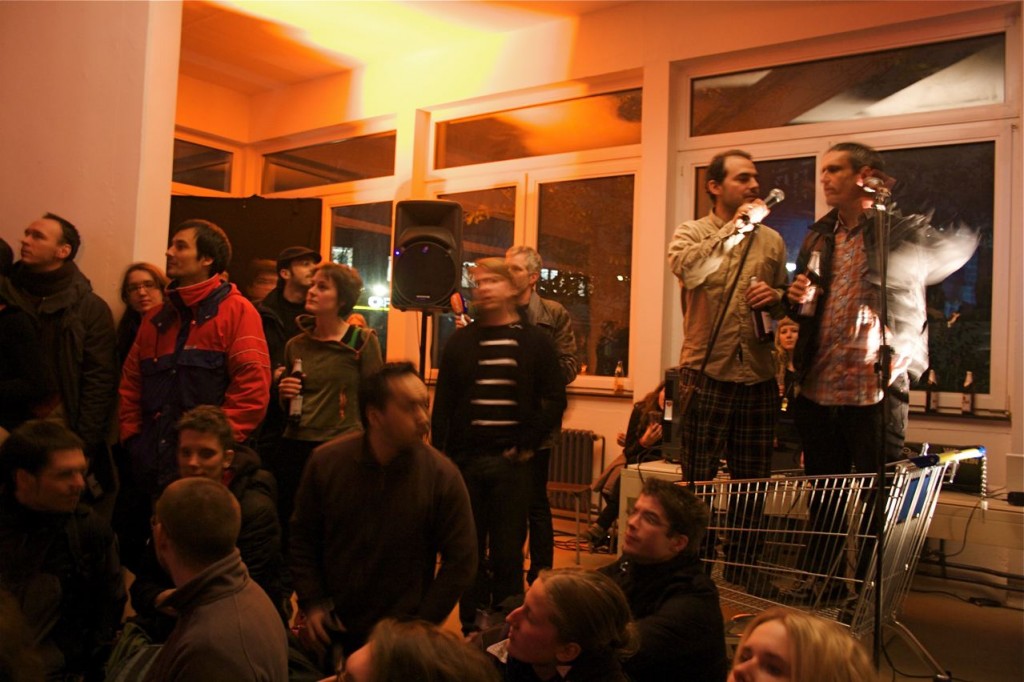 tapmag: When did you start "The Yes Men" and what's your concept?
Mike: We started in 1999. Originally, we were doing an anti-corporate corporation called RTMark. We were setting up fake websites for other companies, trying to make fun of them. One of the fake websites we set up was for the World Trade Organization (WTO). We found that people were coming to the website, not realizing it was fake, and inviting the General Director of the WTO to conferences. Of course, we weren't the General Director of the WTO but we offered to send a substitute to their conferences and then we just started going. We started pretending we are the WTO and making outrageous lectures that made fun of their ideas, basically. We made fun of the policies of the WTO that were hurting people in the developing world, mostly.
tapmag: Did nobody object?
Mike: No, you know the surprising thing is, no matter how extreme our presentations got, because we were the most powerful people in the room, nobody wanted to oppose that. They accepted these really strange ideas […]. We suggested that workers in the Third World get controlled by managers using a […] golden phallus—basically a penis that they wore on their hip—that the managers could use to administer electric shocks.

It was completely bogus, completely absurd. And yet people bought it because they thought we were really important and powerful—and that was the lesson we learned there: If you are in a position of power, you should definitely use it for good rather than bad.
tapmag: In your new movie, you pretend that you are the spokesperson of one the biggest chemical corporations in the world and you admit to wrongdoings in the past and that you are going to pay compensation for that. Why do you think it is so funny when you see a corporate spokesperson on the air saying: "O.K., we did something wrong and we have to take responsibility for it?"
Mike: That kind of thing is shocking because it hasn't happened. I think a lot of CEOs probably want to say those things. They want to do the right thing. They learned right and wrong when they were children, just like the rest of us, and they know the difference. But they also know that if they say those things, their stock price will go down. And they are also obligated to keep their stock price up. It's this catch-22; it's contradictory.
Our whole point of this movie and what we have been doing for years is that we have to bring the system in line with our sense of right and wrong. We have to have a new system that is accountable to our moral and ethical values. Otherwise, the world is going to basically end. I mean we can see it coming: Climate change is guaranteed to cause massive catastrophes; pollution is guaranteed to continue to grow. At ten percent growth a year, the planet is eventually going to get used up; there is no denying that. We need to change sometime; it should be right now.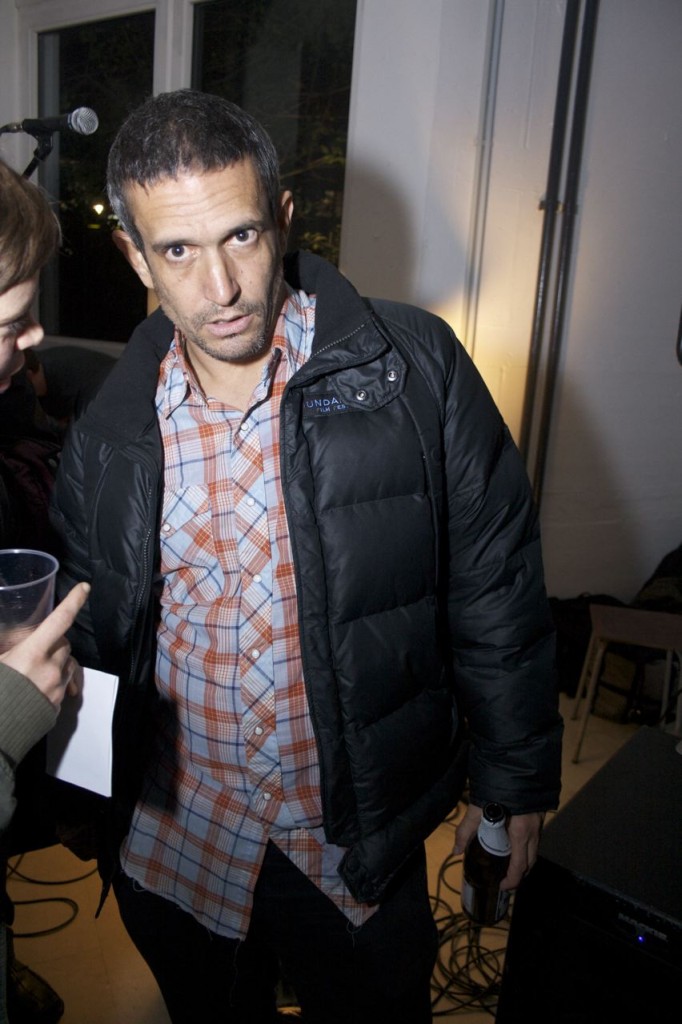 tapmag: What are your thoughts on the financial crisis? Do you have any friends who are investment bankers? What about the "Jump, fuckers!" photograph on the exhibition website?
Mike: I think they've done themselves in. [… ]We don't have anything in particular that we can do to them or with them. We are just going to keep fighting for the right kind of regulation that will control what they will do in the future.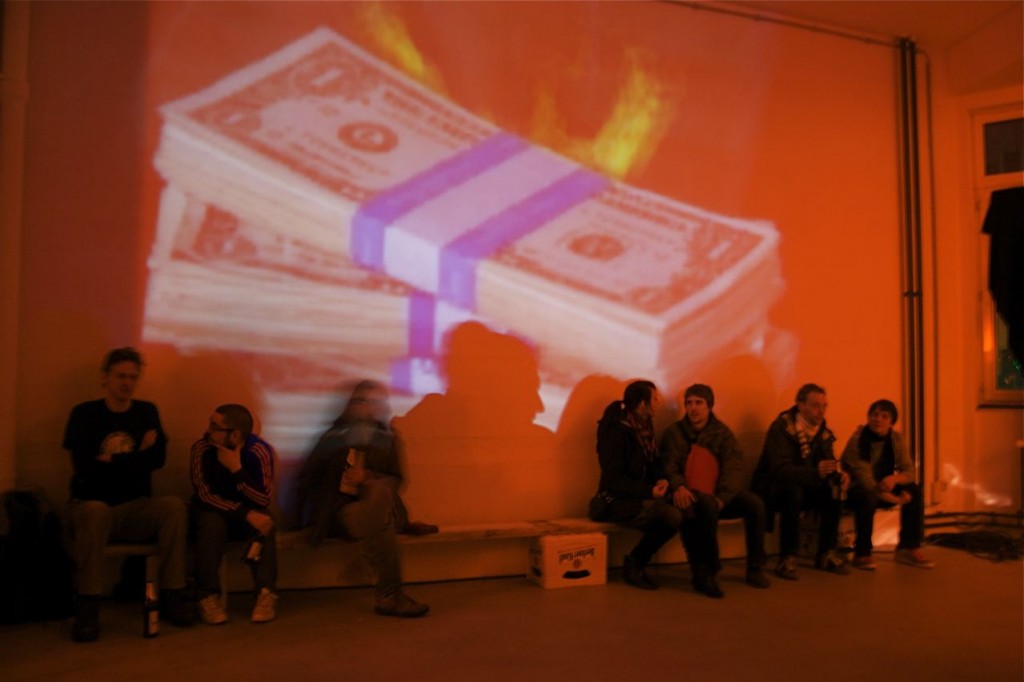 tapmag: From that, I draw that you are more an activist than a comedian. Do you have a set of political demands that you fight for and that you would like to see introduced into the political discourse?
Mike: I think that the discourse has lot of things in it already. […] Right now, we're just interested in seeing change happen, because if it doesn't, the predictions of scientists will probably come true. Sorry, I am a little out of it.
tapmag: That's O.K. Thanks for talking to us and enjoy your stay in Berlin.