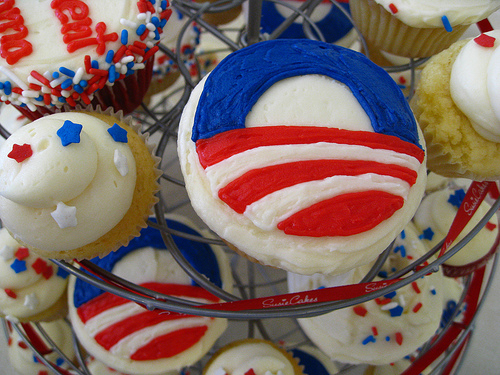 As the days of George W. Bush as President of the U.S.A. draw to an end, every part of the transition process takes on historic proportions. Nobody knows how many people will turn out on January 20 to see Obama take over the White House. It will probably be the biggest crowd ever at any Presidential Inauguration, which will also make it the costliest Inauguration ever. We tell you where to watch the celebration in Berlin!
Still-President Bush has declared the state of emergency for the District of Columbia during the weekend. 11,500 troops are assigned inaugural duties, aided by another 8,000 police men.
Meanwhile, Obama merchandise is in hot demand and might qualify as an economic stimulus. The Washington Post will print almost three times as many copies as usually and raise its cover price from 75 cents to $2 for the Inauguration issue. Needless to say, finding a a place to stay in D.C. borders on impossible.
Luckily, there are lots of alternatives in Berlin to join the festivities, so you can fall into your own bed at the end of the night.
UPDATE
I added the CARTA event, because they also screen the Inauguration.
"Der Digitale Präsident" – Carta Diskussionsveranstaltung
Haus der Bundespressekonferenz, Raum 0107
Schiffbauerdamm 40
10117 Berlin
With live screening and a panel featuring:
- Björn Böhning, Bundestagskandidat SPD
- Mercedes Bunz, Tagesspiegel Online
- Tobias Moorstedt, Journalist and Author (we interviewed him last year)
6.00pm, free admission but you need to RSVP
more info
Inauguration Celebration of the Institute for Cultural Diplomacy
Amerika Haus Berlin (at Bahnhof Zoo)
Hardenbergstraße 22-24
10623 Berlin
> 4.00pm
doors open
> 4.30pm
Panel discussion on the significance of President Obama for Germany and Africa
> 5.30pm
Screening of the Inauguration
> 7.00pm
Panel discussion on the significance of the Obama's presidency for the global African diaspora
>8.30pm
Concert, Jazz, R&B
free admission, more info

Democrats Abroad Inauguration Party
GOYA ClubNollendorfplatz 5
10777 Berlin
> 4.30pm
Doors open, projection of the entire ceremony on a large screen
> 4.00pm
Ceremony starts and ends at 20:00 (according to a press release from Washington D.C.)
> 8.00pm
Guest speakers from the different American abroad organizations. There is the POSSIBILITY the Governor Mayor of Berlin will make an appearance. THIS IS NOT CONFIRMED AT THE MOMENT!
> 9.00pm
Live Music from FOLKADELIC
> 10.30pm
DJ "Daddy-O," Funky Soul Classics
Tickets: 10-,€,  6-,€ after 21:00
To reserve a ticket send a message to chair@demsinberlin.de
There will be an after party at SURPRISE Club & Disco. A shuttle vehicle will be available for door to door transport from 10.00pm till midnight. Entrance and shuttle ride is free when you have a ticket for the Event in GOYA.
more info

Obama Kaffeklatsch at the JFK Institute
Caféte at the John F. Kennedy Institute
Lansstr. 5-9
14159 Berlin
There will be cake and coffee.
free admission, starts 4pm
Your place
You can simply stay home and watch the Inauguration online. Read here where to access live streams of the ceremony and of several Inauguration parties in D.C.