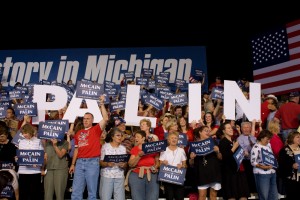 In the good tradition of lists at the end of the year, we bring you the most memorable moments of the already historic 2008 US Presidential election. One media phenomenon was especially salient—Sarah Palin, who will be remembered for putting both hockey moms and Wasilla, Alaska on the political map.
She also sparked a movement of Sarah Palin lookalikes and video spoofs, that succeeded to push the frenzy of Obama music videos from the youtube agenda. The magnitude of her online appeal is so great that after the election, American video websites like Hulu.com have seen their traffic drop due to a post-Sarah-Palin slump.
So, without further ado, our ten favorite videos with or inspired by the moose hunter of the year. Tell us about your favorites and suggest more videos in the comments. Merry Christmas everyone!
1. Sarah Palin herself

2. Tina Fey on SNL
If you can't watch the clip, read here how to bypass the regional limitation.

3. Is McCain Sarah Palin's bitch?

4. From Russia with Love

5. Terry Tate: Reading is Fundamental
Note: Might be funnier if you know Terry's other clips.

6. McCain/Obama Dance Off

7. Obama Girl does Palin

8. Paper Planes Palin

9. The Daily Show: McCain picks Running Mate

10. Sarah Palin at a turkey farm