At eleven forty the crowd slowly becomes bored and people start to entertain themselves. They rythmically shout, "Yes, we can! Yes, we can!" An interpreter for the hearing-impaired is still on stage, who raptly joins in. She clenches her right fist to nod with it, brings it to her chest with her index finger out, then clenches both fists and stems them toward the ground – Yes, we can! Back and forth, the crowd and the little woman in a summer dress are firing each other up; all just to lure him, the Democratic Presidential Nominee, savior and general hopeful on to the stage. To no avail. Barack Obama sets his own timetable.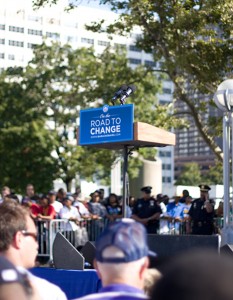 They are on his side here in Detroit anyways. Michigan's economy is in shambles. The big auto manufacturers are suffering from a massive slowdown in sales since decades; each year they lay-off younger workers. I talk to one older union leader – he romanticizes about the time when the Michigan unions could bring more than one million workers out for a strike. Today, the unions are fighting Wal-Mart. They are happy if they can organize workers at all. If change is necessary, then it is most needed here in Michigan, or "fly-over land," how people from the east coast call it. If Washington wants to face the problems in America, they might as well start here in Detroit.
A dark-blue poster promises "Change that you can belive in." It hangs in the back of the stage which Obama will enter with ease in twenty minutes. But before that, Aretha Franklin sings the national anthem and the pledge of allegiance is sworn. Praised by the three presidents of the big automobile unions, yearned for by the tens of thousand who wait in the Hart Plaza and outside, the charismatic Senator from Illinois doesn't face a tough crowd.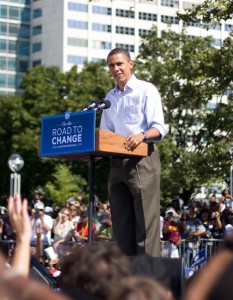 Change and unity – these are Obama's issues. The movement he helped galvanize by his candidacy is set to bring change to Washington because Washington will not change from within, Obama begins his speech. He wants unity to replace the Republican mantra of 'dog eats dog'. That's why he is forming a big coalition – Obama convinced the unions and the poor of his message, he knows the youth and the students are rallying behind him and the citizen right's activists are on his side in any way.
The speech itself is rather short. Obama talks about his strong relations to the labor movement, recognizes its achievements. "You know, I'm a labor guy!" Then he sings one or two lines of Aretha Franklinks "Chain of Fools," before he switches to this day's big news. Hurricane Gustav is threatening to devastate New Orleans once again. "There is a time to argue politics, and there's a time to come together as Americans." Instead of seizing the moment to hold a truly big speech like JFK did on Labor Day 1960, Obama aims to show respect to Hurricane Gustav's potential victims and asks for a brief moment of silent prayer. For a short moment, Hart Plaza turns quiet, not even the photographers on the press box dare to click with their shutters now.
Then, Obama follows up and evokes the ideals of the constitution: "Each of us are vulnerable by ourselves. [...] But when we are unified, we come together in a more perfect union." All the time, the small interpreter had enthusiastically translated Obama's words into sign language, had smiled, had given her best. She can breathe deeply now. Obama says goodbye, jumps into the tunnel in front of the stage and starts to shake hands, hold up babies and sign books.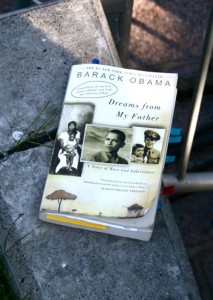 One of the books he places his signature into belongs to Timothy. His copy of "Dreams of my Fathers" is well-read – Timothy marked the most important passages with colored stick-it notes, so he can look them up quickly. He is fifteen and a volunteer on the Obama team. He and his mother travel to all the important events in the Mid-West, help where they can and hope that Obama wins the elections in November. Tim's mother tells me about her time in Germany, then about Sarah Palin, who has just been picked by John McCain for Vice-Presidency. That second, the woman standing next to us interrupts. Her sign reads "Staff", and Tim's mom turns silent. Volunteers aren't allowed to talk to the press.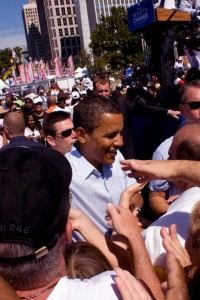 The photographers are storming the stage, they take pictures of Obama from every angle, up and down. Everybody is after a sound-bite now, a smile for his or her camera. Obama has charisma in abundance; he smiles at every lense, reaches for every hand and looks into the eyes of every voter who has made it to the first row. It is as if he wanted to assert every one of his own incarnation. Yes, I am.
By Kolja Langnese