In a little more than 13 hours, U.S. presidential hopeful Barack Obama will stand in the golden hue of Victoria, at the foot of Prussian greatness, walking in the footsteps of American greats before him.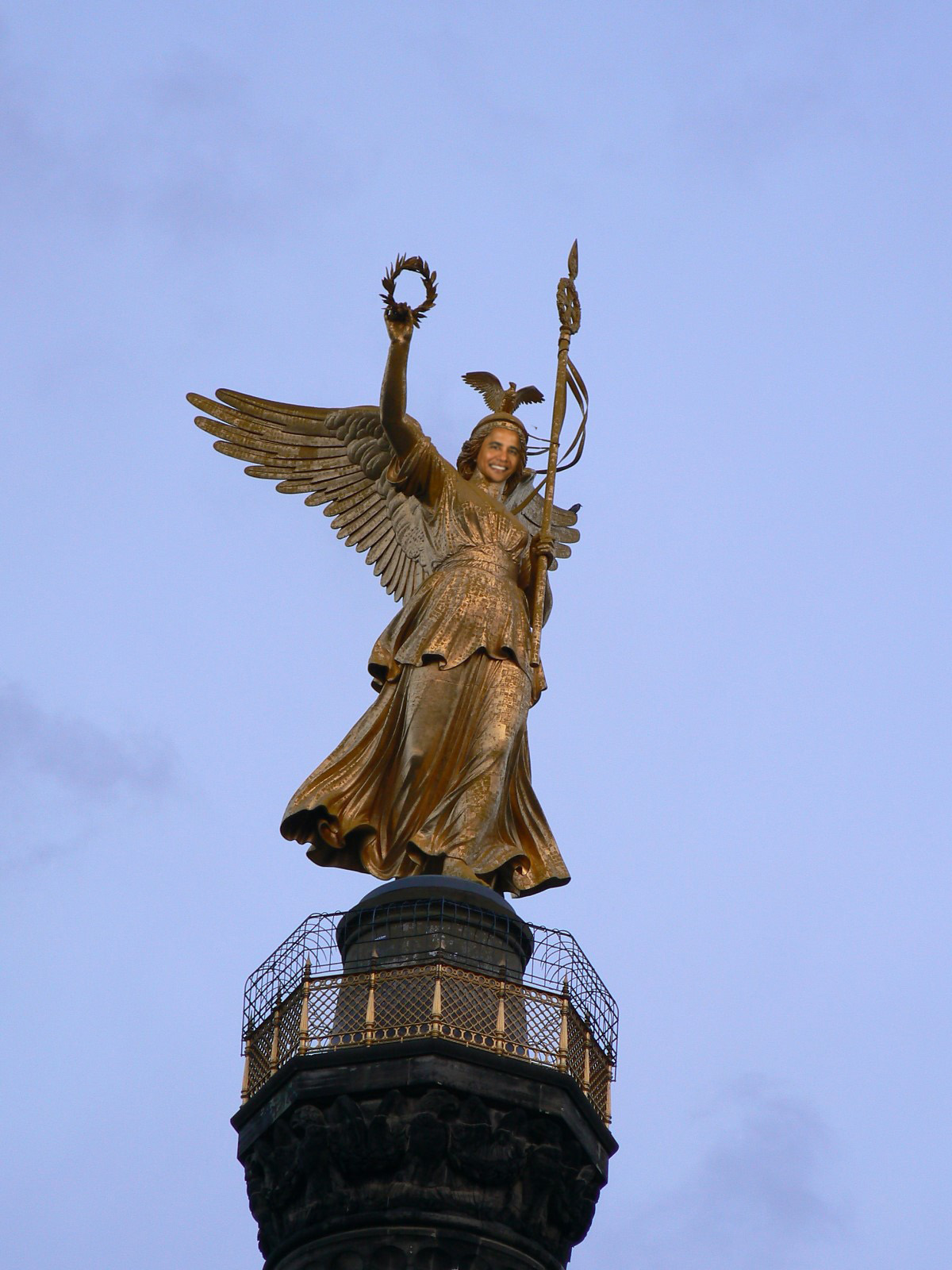 Germans know their history well. To this day, over 50 years after WWII, and almost 20 years since the Wall gave way to German unity, they are still struggling with their past. To this day, you will still find Germans in their forties being asked, if they ever met Hitler back then, when they were in the Hitlerjugend (any need to stress the absurdity here?). And to this day, you will still find young Europeans carrying within them the resentment passed down through generations, from when their countries or cities were occupied by the Nazi regime.
No page in history is the mere sum of its words. It holds the lives and fates of the thousands before it, who paved the way. It holds the hearts and souls of those who changed it. And it owes its life to those, whose story it never got a chance to tell.
For that reason, tomorrow, Obama will walk with Kennedy, and he will work with Reagan to tear down the Wall. Obama's every word will be dissected, and held against the Berlin sky, where those of his predecessors still flow. And for that reason, Obama, tomorrow, can make history. The question is whose?, and how well? One thing seems certain, though, the Germans are on their guards. The location of his speech alone has already been enough to keep the political kettle boiling, and public sentiments brewing, over the past weeks.
Apparently, speaking in Berlin is something you earn. "He is no Kennedy, he is not even president yet!," roared the opposition by the thought of Obama speaking at Rathaus Schöneberg, where Kennedy gave his "Ich bin ein Berliner" speech 45 years ago. Brandenburger Gate, where Reagan delivered his famous "Tear Down this Wall" speech, on June 12, 1987, was nixed by Chancellor Merkel. Both speeches articulated the desire for peace, and for freedom. And though Iraq, Afghanistan, and Israel might be more urgent venues for articulating those desires, Berlin is still as good as ever.
In many ways, 9/11 was our Kennedy assassination, and it was our Dr. King on the balcony. It changed the world as we knew it, it shook our faith in the goodness of mankind, and it propelled us into uncertainty – it made us lose hope.
But Obama, too, is our Kennedy, and he is our Dr. King. For many, even beyond the U.S., he is that hope – and the belief – that change is going to come, that the world, again, can become a better place. Obama might not be president yet, but he can make history. And Berlin has always been the place for that…
By Peter Dahl